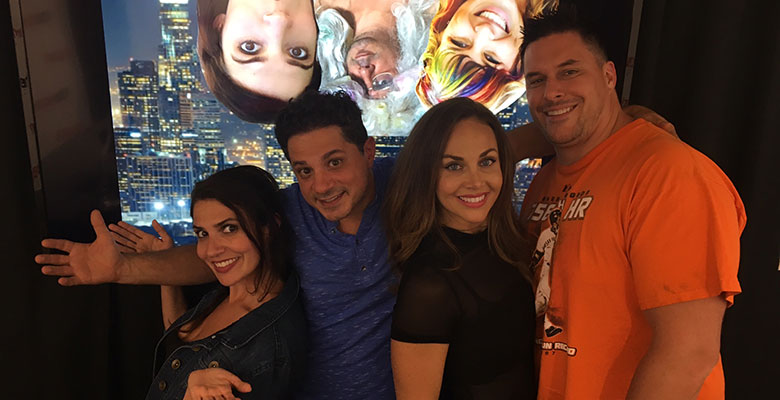 We get to know two "super fun" actors on this episode, as the cast welcomes two new visitors into the Network Studios flagship offices. Join Jurassic Jen and Rocco in the outdoor, "HLN Hot Tub", which is located by the Country Club, within the rural part of "Mr. Rocco's Neighborhood". First, you will meet Actor, Model, Personal Trainer and Fitness Coach; Josephine Rene. She will be Hollywood Late Nights' new "Fitness Guru". She was winner at the "Muscle Beach International Classic". That's right, she's got the beauty, the brains, and the brawn fellas, so watch out! Some of her latest work as an Actor includes the Netflix series, "Small Crimes", which is a "must-see". Next ring of the doorbell is another "sexy beast"! Rocco's good buddy, and fellow Actor; Matt Mcgraw, from HBO's, "True Detective", joins Jurassic Jen, Josephine, and Rocco for a game of "Noun Sounds", where Rocco passes out his "Bag O' Buzzers", and then plays audio clips, of either a "Person, Place, or Thing". From Josephine's incident with fellow hobo Ricardo, who resides in the neighborhood, to Matt's run-in with David Hasselhoff, you'll hear it all on this episode. From "Vegas" to "Plan B", join the cast for some fun and frivolity!
Guest Links
Josephine Rene:
imdb- http://www.imdb.com/name/nm2263566/?ref_=fn_al_nm_1
facebook- https://www.facebook.com/josephine.rene.5?ref=br_rs
Instagram- https://www.instagram.com/josephineg21/?hl=en
Matt McGraw:
facebook-https://www.facebook.com/matthew.mcgraw.16718
Instagram-https://www.instagram.com/mattmcgraw11/
FLASH BACK FRIDAY VIDEO 1
Josephine on stage at the "Hollywood Improv".
FLASH BACK FRIDAY VIDEO 2
Rocco's National Commercial with Hockey Legend, "Wayne Gretzky".
Featured Links
Chrome Italian Soda:"Chrome On Ice"
ROCCO'S "HAPPY FATHER'S DAY" SKY DIVE CLIP: