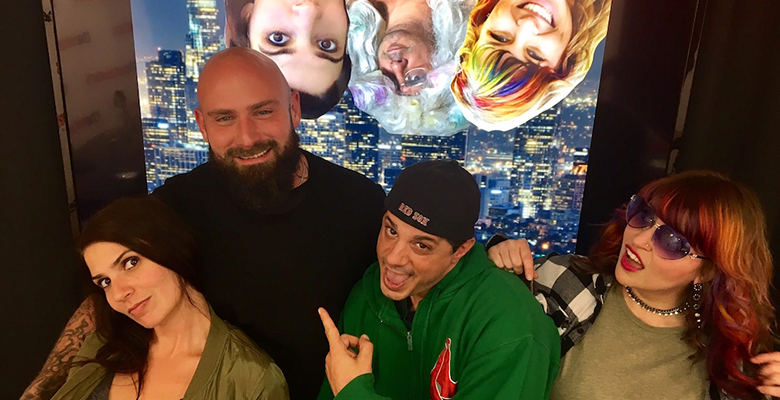 Welcome to "Mr. Rocco's Neighborhood" this episode where you never know who will stop by. With just one ring of the doorbell, and the entire show could go off the rails. In this episode, a couple of interesting characters stop by including one of Rocco's childhood friends, and "Breathwork Group facilitator", Shane Vitkovich. Is he the "Coolest Guy Of the Week" award recipient, or his he just "Rocco's Biggest Jerk-Off" of the week? Shane tells us about the art, and the practice of "Breathwork" and it's power in all types of healing. You can book a sessions with Shane at TheHeathenHealer@gmail.com and schedule private session with him. We all know our "One Woman Band", "Sarah Sunshine Sarahtonin", aka, Sarah Weismer wants a Private Session. Sunshine also tells us about her run in with "Ron Jeremy", which it seems everyone has had a run in with Ron Jeremy at some point in their lives while living in Hollywood. That little hairy man gets around! "Jurassic Jen" puts the rumors to bed, that she enjoys the 50's pointy style Bra.
This episode you will be entertained by segments such as:
-Rocco's Favorite Trading Cards
-Super Slogans by Sunshine (get your "Human Buzzers" ready!)
-Ugliest Athlete Award
Also, enjoy a closing number by "The Hollywood Late Night Quartet" lead by Sarah Weismer, and accompanied by "Jurassic Jen", Shane Vitkovich, and of course, "Rocco". Our new Sponsors this episode are "Bai", the tasty, antioxidant drink, and also "O'Neill's Autobody".
Guest Name: Shane Vitkovich
Shane is an American Hero who served in the military for 4 years, where he was deployed to Bosnia Herzigovina in September 2001. He was in the infantry as "E4 Specialist" in the US Army. Since being back in the states he has been an active leader at "310 Recovery", which is an outpatient drug and alcohol treatment center, working as a Certified Alcohol and Drug Counselor. He also specializes in "Breathwork" for veterans. His passion is his Private Practice, which is called "The Heathen Healer". You can book a sessions with Shane at TheHeathenHealer@gmail.com and schedule private sessions. Despite being covered in tattoo's, Shane is a down-to-earth, even keel type of guy with a great heart! On top of all of his accolades, Shane makes time for his 1 year old pit bull, "Loki", and also spends his time riding his CBR600rr with his squad!
SHANE'S LINK:
FACEBOOK: https://www.facebook.com/heathenhealer
INSTAGRAM: http://www.instagram.com/protektyanekk
Shane's Healing Work called, "Breathwork"
FEATURED LINKS:
The Turtle Whisperer on "El Ocho"
Metropolis Collectibles Rocco's Real Sponsor